The Definitive Guide to Proper Helmet Fit
Over years of research by manufacturers, it has been found that proper fit contributes greatly to a rider's satisfaction with his or her helmet. It is important that, as a rider, you understand that size and fit affect how a helmet performs in everyday riding, and that rash or uninformed purchasing decisions can affect that performance.
A helmet purchase is an important and personal decision, and should be made with confidence that you've researched how to ensure the best fit. It is always recommended that you try on any helmet before purchasing, to be sure that you getting the correct size (head circumference), shape/style, and cheek pads. Utilizing a trained helmet technician or salesman to determine the right size helmet for you is a no-brainer – even if you're not a first time buyer.
But just because you use their skills to find the model and size for you doesn't mean that you need to buy from them. Purchasing at a local shop will help your community retailers, but it will likely cost you more money. The best way to save money in the transaction is through "showrooming."
Showrooming is a process where you examine the helmet in a traditional brick and mortar store without purchasing it, but then go home and shop online to find a better price. The benefit of this technique is that you'll avoid two key pricing components that you would normally pay: retail mark-up to cover overhead expenses and sales tax. You'll almost always get a better deal through show rooming, and you should always begin your online search at Amazon.com.
Before you begin visiting your local motorcycle shop or looking for online deals, it's important to know a little about the upcoming process. Below are a couple of videos to help you learn the basics of proper helmet fit.
Arai Helmets – How to Fit a Helmet
The first video is an instructional video provided to helmet retailers. Produced by Arai helmets, this is straight from the horse's mouth guidance on how to properly determine fit of a motorcycle helmet. If you want to find out how to do it right, this is the video to watch.

Items discussed in the video:
Arai Helmets Website: www.AraiAmericas.com
Arai Helmets Measuring Tape at Amazon.com: Arai Helmets Measuring Tape
Research Arai Protective Gear at Amazon.com: Arai Protective Gear
I know that sometimes people aren't able to watch a video. For me, it happens when I'm at work. I'll stumble across something that captures my attention, but I'm sure my boss wouldn't appreciate me stopping to watch a video when I should be slaving away at my job. For everyone out there in the same position as me, here is a transcript of the video:
Video Transcript:
This past weekend while working at an Arai display at a consumer show I was approached by a gentleman who identified himself as a sportsman road racer. He informed me that the Arai R7 series helmet that he owned had become quite noisy and had an excessive amount of movement at speed. After measuring his head at 56cm and determining that he would be corrected fitted in a size Small, we discovered that he owned an Extra Large. He'd been racing for the past four seasons in an Arai helmet that was four full sizes – and two shell sizes – too big for his measured size. While he owned the world's best helmet, should he have crashed its ability to protect him would have been substantially compromised because it was far too large for him. The issue of correct measured fit and the procedures which need to be used to achieve that fit are why we're here today.
Arai believes it is unlikely a helmet can be fit properly over a phone line or on a computer screen. It is a hand-on, eye-to-eye, face-to face process that is best handled by retailers experienced in the fitting of helmets. We believe in an approach that will bring consumers to you, the dealer, for the correct fit of this critical piece of his equipment, which is why it is so incredibly important that you embrace to reality of proper fit and the tools required to give your customers that added value.
The feedback we are getting from helmet buyers would suggest that many are not being fitted correctly. Indeed, worse than that, is that perhaps 90% of them are buying helmets at least one size too big. Perhaps as many as one in every ten consumers who come to our display at retail motorcycle consumer shows are wearing a helmet two full sizes too big. This is a serious issue because a loose fitting helmet cannot do its job correctly. A helmet must be firmly fitted in order to be as quiet as possible and best manage the energy of a motorcycle impact.
In choosing a helmet, currently it would appear there is simply too much guess work in establishing a customer's head size. After all the years and many thousands of heads I have fitted for Arai Helmets, I can guess with a great degree of accuracy the size and shape of any given head. But with all of this experience you would never find me in any professional situation where I am dealing with Arai Helmets where I do not carry my personal measuring device with me. This tool is essential to the process. These measuring devices which I carry are obtainable in any fabric store. They measure in both American and Metric measurement. They are made in Germany are they are very precise in their calibration. Utilizing a tool like this within your store to establish the circumference of your customer's head is the first step in helping the consumer achieve a proper fit. If you do not base the beginning of the fitting process on a measured size, we are truly shooting in the dark as it relates to trying to come up with a proper fit.
Where you want to begin is by measuring the consumer's head, and very simply stated, we are trying to find the longest distance around the consumer's head, eyebrow level above the ears. It may require several different attempts to establish the longest possible measurement around the consumer's head but it is absolutely essential that we establish the parameter, as it will give us the actual size for a correct fit.
There is no room for guess work here. If you were to walk into a shoe store to buy a fine pair of shoes would you expect the salesperson to look at your feet and suggest to you that you look like you are about a medium? No! The assistant would sit you down and remove one of your shoes and measure your feet with a Brannock Device for both length and width so they would have an accurate measurement to choose correctly the size shoe you need. The same thing should be true when choosing a helmet. We need to establish the measured size of the circumference around the top of the head.
Next, we need to visualize the shape of the head. At Arai, we have recognized that the circumference of the head is only the staring point for a comfortable and correct fit. The shape of the head as it relates to the length and width are equally as important. There are three basic head shapes that we recognize when considering a full-faced helmet fit:
A. The traditional Arai fit, or what we refer to as the Long Oval, where the head length is measurably longer than the width.
B. The transitional fit, where the head is distinctly Round Oval. It's width and length is quite similar – again something that is very easy to visualize when you have the opportunity to look at the consumer face-to-face, from eye-to-eye, as well as from the profile.
C. The third fit is what we refer to as Intermediate Oval. It is a round shape, but it has considerably more forehead length in it. It bridges the gap between the two previous shapes.
The relationship of the width of the head combined with its length is what will establish its shape as it relates to the various shaped interiors that Arai full coverage street helmets come in. The three Aria full coverage street line helmets that address these differing shapes are:
The Profile Series, Arai's traditional fit, accommodating what we refer to a Long Oval in its interior shaping. It has a distinctly narrow side to side measurement, combined with a very long front to back measurement.
The Quantum Series is distinctly Round Oval.
The Vector, recently introduced, has a round shell and consequently accepts the same face shield as the Quantum, but has considerably more forehead length in it. It is for the consumer that is too wide to fit in the narrower shell that we associate with the Profile, but has more length than we commonly associate with the interior measurement of the Quantum. It bridges the gap between the Profile and the Quantum.
Now, it might be more difficult for some fitters to determine the shape of a consumer's head than for others. If so, in a good retail situation, after establishing the correct measured size of the consumer's head, you should take the time to have them try on each of the three differently shaped model interiors within that size range. This would give your customers the final check on which of the shapes suits them best.
Too many people buy their helmet to fit their face. I'm fond of reminding consumers that there is no brain in your face. First and foremost, it is about protecting the brain – what I like to refer to as your "personal computer." The next thing we address is the smile. Some consumers who you can identify as having a particularly broad facial structure will often identify themselves immediately to you as wearing a helmet which is quite a bit larger than their measured size. This is a prime example of a consumer who, over the years, has been forces to buy the helmet to fit their face and not their head.
I'm fond of reminding consumers that there is no brain in your face – Click to Tweet
Once the head size and shape has been established, if there is a problem in the fit around the facial areas, we suggest that you completely remove the cheek pads and fit alternate cheek pad thicknesses until the comfort level needed is achieved. You may choose, in the case of a particularly broad facial structured consumer, to remove the cheek pad set completely to get their head into the interior of the helmet to prove the circumference is correct. And then address facial fit by adjusting the thickness of the cheek pads. Obviously, as a retailer, having a selection of cheek pad thicknesses to fit the varying models is going to be essential to that process – just like carrying a good selection of clear and tinted face shields.
Finally, after making sure that the chin strap is securely fastened, have the customer reach over from the front of the helmet to grab the back edge of the shell and try to pull the helmet forward so as to roll it off his head. If it comes off in this way, the helmet is too big. If you have any doubt in your customer's ability to perform this test, here's how you should perform it for them (note: video demonstrates correct technique).
It's all about giving the consumer confidence that you know what you're talking about and what you're doing. And guessing at their size as it relates to the sale of a premium quality helmet is not the way to start the process. Always use an accurate measuring device. It is very straight forward. Measuring around the top of the head to establish a circumference measurement; visualizing the shape of the consumer to establish which model will likely fit them best; and lastly establishing facial measurement so you can change the cheek pads of the interior of the helmet to implement the last component of a proper fit.
Beyond the three primary models that dominate our sales success in the marketplace – the Quantum Series, the Profile Series, and the new Vector – there's also our flagship RX-7 Series, which is a distinctly Round shell that accepts the same face shields as the rest of the full coverage models. But has a unique construction process that is designed to make the helmet lighter in theory, but we do it as an offsetting value because we add some additional features in the RX-7. The diffuser ventilation mechanism, most notably, and the fully removable machine washable comfort liner. Its approach to Round Oval fit, however, is what I like to refer to as "relaxed." It is a bit roomier than the pure roundness that we associate with the Quantum Series.
In the case of the Motocross product, our traditional one-piece VX-Pro Series, as well as our three-quarter open face line, the Classic and SZ Series, do not share multiple fit packages. These are build on a single fit package the runs in the middle of the shape range. We've had very little problem fitting consumers choosing these products within the single fit package.
Arai Helmets will be bringing to dealers a new level of sales promotions support, and in return that brings with it the responsibility that you provide your customers with the most professional fitting service. Arai is widely considered to be the world's best helmet. Let's make sure the customer gets the best service possible in the fitting of their helmet to provide them with a satisfying purchasing experience.
— end transcription
To get a greater understanding of the three shapes mentioned in the video, here are drawings form Arai diagramming them:
Arai Long Oval: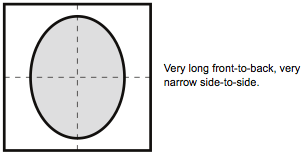 Arai Round Oval: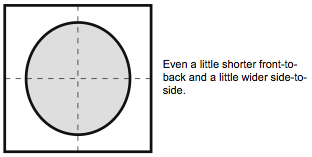 Arai Intermediate Oval: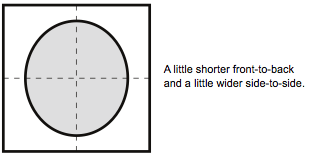 Shoei Helmets – Tech Tip Series Helmet Fit
Here is another video on achieving a proper helmet fit. This shorter video from Shoei Helmets is also packed full of information related to the topic. And, once again, a transcript follows for all of us work slackers!

Items discussed in the video:
Shoei Helmets: www.shoei-helmets.com
Research Shoei Protective Gear at Amazon.com: Shoei Protective Gear
Video Transcript:
Hi. I'm Patrick, a technical advisor for Shoei Helmets and today we'll be showing you how to determine a proper helmet fit.
No helmet can protect the wearer against all foreseeable impacts. However, for maximum protection, the helmet must be a proper fit and the retention system must be securely fastened to help prevent the helmet from coming off in an impact. Proper fit also helps to reduce noise levels and ensure a comfortable, distraction-free riding experience.
The first step in determining a proper helmet fit is to measure your head Pass the tape measure horizontally around your head, about one inch above your eyebrow, to get the largest measurement possible. Once you have your head measurement – in this case 22 1/2 inches – you can cross-reference our sizing chart available on our website to find out roughly about what size you are. According to our sizing chart, 22 1/2 inches is a Medium, so that's where we'll be starting today.
The next step in the fitting process is to try on the sizing chart's recommended size. Firmly grasp the chin straps and expand the opening of the helmet with your hands. Make sure that you grab the chin straps and not the chin strap covers, as pulling on the covers can cause them to tear. Now, slide your head into the helmet in a front to back motion rather than straight down.
It takes a bit of effort to get the Medium size helmet on, as a proper fitting helmet can be a bit on the snug side. If you try on a helmet that's on the large side, you'll likely find that the helmet slides onto your head too easily. On the other hand, if the helmet you're trying on is too small, it will be extremely difficult to get on your head and will likely cause immediate pressure points.
Pay attention to the center pad at the top of your helmet. Does it press closely to the top of your head? You'll also need to check for snugness along the sides of your head, your forehead, and the back of your head.
Let's first check to make sure there is no space between your forehead and the liner of the helmet. When wearing the correct size helmet, in this case a Medium, you should not be able to slide your fingers between the helmet and your forehead.
The next step is to put a hand on each side of the helmet and, without moving your head, move the helmet up and down and side to side. With the correct size helmet there is little movement, as the helmet fits securely on your head. You should feel the skin on the top of your head and your face being pulled as you move the helmet. If the helmet is too big, it will move independently from your head more easily.
The next step is to fasten the chin strap as tightly as you can without causing any pain. There should be no slack in the strap and it must be tight up against your chin. With the chin strap fastened, put your hands on the back of the helmet and try to push the helmet off by rotating it forward. Now put your hands on the front of the helmet and try to push the helmet off by rotating it rearwards. With the correct sized helmet there should be little movement and the helmet should stay securely in place. With a larger sized helmet there is more movement, indicating that the helmet is too big.
After following these steps, you should know what size helmet is a proper fit for the crown of your head, however you may still need to adjust the cheek pads in order to fine tune the overall fit. Pay close attention to the cheek pads. Are they a snug fit? If you open and close your mouth you should bit down on your cheeks slightly. Proper fitting cheek pads help to reduce noise levels and buffeting, so it is important to ensure a snug fit.
All of our current three-quarter, full-face, and modular helmets come with removable cheek pads that are available in a variety of sizes. They can be switched out to customize the fit of your new Shoei. There's a sticker on the back side of the cheek pad that tells you its size. This number is a reference to the thickness of the cheek pad in millimeters. The smaller the number, the thinner the pad. Thinner pads can be used to loosen the fit. The larger the number, the thicker the pad. Thicker pads can be used to make the helmet fit more snugly. It is important to remember that the helmet padding will break in after approximately 25 hours of riding.
Proper fit is not only important for comfort, but safety as well. We hope this Tech Tip was helpful. Thank you for riding with Shoei.
— end transcription
To find the helmet size chart referenced in the Shoei video, first select the helmet model that you're interested in. On that helmet's information page, you'll see a menu on the right side of the screen. Clicking the 'Size Chart' drop-down will display a size chart similar to the following:

In summary, remember to utilize the help of a professional, get your head circumference measurement, try on the helmet model on in the store, fine tune the fit by adjusting the cheek pads, and then save some money by shopping around online. Good luck in your helmet search!